Details
U finalu ovogodišnjeg EuroBasketa za košarkaše u Istanbulu igrat će Slovenija i Srbija, nakon što je Slovenija u prvom polufinalu nadigrala branitelja naslova Španjolsku sa 92-72, Srbija je pobijedila Rusiju sa 87-79.
Details
– Mirko Novosel postavio me za trenera juniorske reprezentacije bivše SFRJ kada sam imao samo 26 godina. To je bio najljepši poklon koji sam dobio– piše Dražen Brajdić, novinar VL.
---
Bogdan Tanjević (70) simpatična je pojava u košarkaškom svijetu. Aktualni crnogorski izbornik poznat je ne samo po tome što je stručnjak trofejne karijere (bio je klupski i reprezentativni prvak Europe) i po tome što je jedan od najnačitanijih košarkaških trenera, nego i po tome što je strastveni i "neizlječivi" pušač.
Nakon svake utakmice Boša se žuri zapaliti jednu i tek je onda spreman za obveze prema medijima. Nažalost, u Cluju se nije uspio suzdržati do izlaska iz dvorane i cigaru je zapalio u svlačionici pa ga je Fiba kaznila s 1000 eura.
Puno dugujem Mirku
Tanjević je pušio u svlačionici nakon uvjerljive pobjede nad Mađarskom i to je nešto što je protiv pravila pa će Crnogorski košarkaški savez morati platiti tu kaznu. No, čak i ako Boša to bude morao sam platiti, kazna zasigurno neće promijeniti njegove navike.
Uostalom, i naš razgovor s njim, njegov veći dio, odvio se na autobusnoj stanici ispred dvorane samo da bi Boša mogao zapaliti omiljenu cigaru.
A u tom razgovoru dotaknuli smo se Hrvata koji su na ovaj ili onaj način imali s njim doticaja, ili utjecaja na njegovu karijeru.
– Mirko Novosel postavio me za trenera juniorske reprezentacije bivše SFRJ kada sam imao samo 26 godina. To je bio najljepši poklon koji sam dobio i tom velikom čovjeku puno dugujem.
Tanjević se rado sjeća i dvojice hrvatskih pokojnih košarkaških velikana, Dražena Petrovića i Krešimira Ćosića.
– Dražena sam vodio na američku turneju 1981. kada je imao 17 godina. Otkrit ću vam jednu tajnu, gotovo sve sam bio dogovorio da ga dovedem u Trst, a trebalo se to zbiti one godine kada je otišao iz Cibone u Real. No, umjesto da uđemo u A-1 talijansku ligu, mi smo ispali iz Druge lige. Za time jako žalim jer bili smo već dogovorili i iznos za četiri godine.
I Draženovu bratu Aleksandru bio je izbornik, i to iste godine, premda se aktualni hrvatski izbornik toga ne sjeća.
- Poručite mu da je ostario pa zato zaboravlja, a ja sam još mlad i ne zaboravljam ništa. Vodio sam ga 1981. na Univerzijadi u Bukureštu.
Ovom čovjekoljupcu najveća sjeta u glasu osjeti se kada se sjeti Kreše Ćosića.
– Svaki se dan sjetim Kreše, baš svaki. I svima govorim o njemu, produljujem sjećanje na njega. Bili smo jako bliski, a on mi je iz prijateljstva, u šali, govorio da sam "glupi Bosanac". Krešo je i na parketu bio izniman altruist. Takvo što doživio sam još samo s Mirzom Delibašićem. Kada je moja Bosna u onom finalu Kupa prvaka 1979. osvojila europski naslov, Delibašić je, uz samo malo više egoizma, trebao zabiti 45, a Varajić 12. No, Mirza je pustio Varajića da bude prva zvijezda te velike pobjede, a to mogu samo posebni ljudi. A takav je bio i Krešo koji je podigao tri naraštaja. Najprije onaj koji je osvojio naslov prvaka svijeta 1970., potom svoj te onaj iza sebe.
Ne bojim se mirovine
Sa svojih 70 godina, Tanjević je najstariji trener na ovom Eurobasketu.
– Već sam 46 godina na klupi, još od 1971., i nitko nema više iskustva od mene. Znam kakve su noći ne samo nakon slabije utakmice, nego i nakon slabijeg treninga jer ja već i tada ne spavam dobro, pa i danas sa 70 godina. Tako sam loše spavao i nakon poraza od Hrvatske.
Pribojava li se odlaska u mirovinu jer tada onima koji vole raditi ostaje neispunjiva praznina?
– Ne bojim se odlaska u mirovinu, no još uvijek me drži trenerski adrenalin. Osim toga, nije veliki napor biti izbornik. Dva mjeseca velikog adrenalina, a deset mjeseci mogu posvetiti obitelji što prije nije bio slučaj.
Nikad nisam prestao pušiti, ali ne pušim u svlačionici
Na presici nakon pobjede nad Češkom (88:75), crnogorski izbornik Bogdan Tanjević burno je demantirao da ga je Fiba kaznila zbog pušenja u svlačionici, ali i zbog nedolaska na konferenciju.
– Na presicu nakon Mađarske nisam došao jer sam imao aritmiju pa mi je liječnik savjetovao da ne idem pred novinare pod takvim stresom. Premda sam prije sedam godina išao na kemoterapiju, nisam nikad prestao pušiti, ali to činim na dozvoljenim mjestima pa tako i sada tvrdim da nisam pušio u svlačionici. Tamo nisam ni dodirnuo cigaru – energičan je bio Tanjević dok se obračunavao s crnogorskim novinarom koji je to prvi objavio.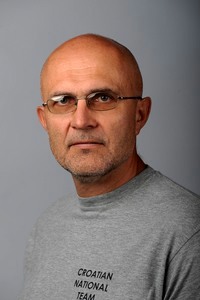 PRENOSIMO Večernji list PIŠE Dražen Brajdić FOTO arhiva Večernji list
Details
Petroviću je ovo treći mandat na čelu hrvatske reprezentacije jer bio je izbornik i na Eurobasketu u Turskoj 2001. kada su naši košarkaši izgubili u nesretnom četvrtfinalu protiv domaćina prvenstva – piše Dražen Brajdić, novinar VL.
---
Na predstojećem Eurobasketu reprezentacije s prostora bivše države doista će imati klasu na klupi. Najveće igračko ime svakako je bio srpski izbornik Aleksandar Đorđević (49). "Sale Nacionale" s reprezentacijom poslijeratne Jugoslavije svedene na Srbiju i Crnu Goru bio je i svjetski prvak (1998.) i višestruki europski prvak (1995. i 1997.), osvajač olimpijskog srebra (1996.), ali i europski klupski prvak s Partizanom 1992. godine.
A to je bio jedan od dva finala koja su najviše odredila Đorđevićevu karijeru. Njegova trica za pobjedu nad Joventutom, baš kao i 41 koš u finalu Eurobasketa 1995. košarkaške su priče koje se u Srbiji prenose s koljena na koljeno. Hrvati ga, nažalost, pamte po trici sa sirenom za pobjedu na Eurobasketu 1997. Okušao se Đorđević, nakratko i u NBA ligi, i to u Portland Trail Blazersima, ali se nakon odigranih osam utakmica i postignutih 25 koševa brzo vratio shvativši da svoju glad iza igranjem utažiti može jedino u Europi.
Vujošević bez Eurobasketa
Europski klupski prvak, i to s Cibonom, još tamo 1985. godine, bio je i hrvatski izbornik Aleksandar Petrović (58). U to vrijeme "Aca Trica" bio je i reprezentativac reprezentacije bivše SFRJ pa se okitio broncom s Olimpijskih igara u Los Angelesu, broncama sa svjetskih prvenstava u Kolumbiji (1982.) i Španjolske (1986.), ali i broncom s Eurobasketa 1987. održanog u Grčkoj.
Igračku karijeru, ali skromnu i kratku, imao je i crnogorski izbornik Bogdan Tanjević (70) koji je vrlo mlad (s 24) okačio tenisice o klin i odmah počeo jesti trenerski kruh sa sedam kora. Dogodilo se to baš kada je odlučio napustiti OKK Beograd i prijeći u Oriolik iz Slavonskog Broda, no kako je to ljeto proveo u svom Sarajevu, gradu u kojem je odrastao, neočekivano je dobio ponudu da bude prvi trener. Dogodilo se to jer se čelnicima tadašnjeg drugoligaša Bosne svidjelo kako je to ljeto radio s njihovim klincima.
O igračkoj karijeri Duška Vujoševića (58), izbornika Bosne i Hercegovine, koje neće biti na Eurobasketu, jako se malo zna. A kako i bi kada je trenerom odlučio postati već sa 17 godina. Baš kao i Tanjević, koji je s četiri godine napustio rodnu Pljevlju, i Vujošević je rođen u Crnoj Gori, ali se već s pet godina preselio u Beograd.
Ako je pak i logično da on kao Crnogorac jednog dana, pa bio to i smiraj Tanjevićeve karijere, postane izbornik svoje zemlje, nemalo je iznenađujuće bilo kada je izbornikom nacionalno slojevite i osjetljive Bosne i Hercegovine postao čovjek koji je svoju karijeru izgradio kao otac modernog Partizana. Dule je Partizanu donio pet naslova prvaka, regionalne, Jadranske lige, a 2009. bio je i euroligaški trener godine jer je crno-bijele odveo u Final Four Eurolige. No nije to bio jedini euroligaški Final Four koji je igrao s Partizanom jer zbilo se to i 1988. u Gentu, godinu prije no što će Jugoplastika krenuti u svoj trogodišnji veličanstveni euroligaški niz.
Puno više trenerskih uspjeha imao je 12 godina stariji Tanjević koji se može pohvaliti da je bio europski klupski prvak (1979.), a 20 godina poslije i europski reprezentativni prvak (1999.). Klupski mu je to pošlo za rukom s Bosnom, za koju su tada igrali Delibašić, Varajić i Radovanović, a reprezentativno s Italijom koju su tada predvodili Gregor Fučka i Carlton Myers.
Boša zvan – uspjeh
Osim jugoslavenski, bio je Boša i klupski prvak Italije, Francuske i Turske koju je pak, kao izbornik, 2010. odveo do svjetskog srebra na Svjetskom prvenstvu odigranom u Turskoj. O tako velikim dometima slovenski izbornik Igor Kokoškov (45) zasad samo sanja. Ovaj mladi srpski stručnjak kojem su Amerikanci dodijelili svoju putovnicu ime je stekao kao pomoćni trener nekoliko NBA klubova (LA Clippers, Detroit, Cleveland, Orlando, Utah Jazz), a nakon što je sedam godina bio izbornik Gruzije, prošlo je ljeto u ruke dobio nacionalnu selekciju Slovenije. A naši sjeverni susjedi nadaju se da ih Kokoškov, zajedno s Goranom Dragićem i Lukom Dončićem može već na ovom Eurobasketu odvesti do povijesnog uspjeha.
Tome se nada i hrvatski izbornik Aleksandar Petrović, posljednji trener koji je s reprezentacijom Hrvatske osvojio medalju na velikom natjecanju. Bilo je to 1995. u Ateni, baš kada je Saša Đorđević s najvišeg postolja gledao kako Hrvati napuštaju postolje ne želeći slušati "Hej, Slaveni" i gledati njega i drugove s visoko podignuta tri prsta, simbolom četničkih razaranja po Hrvatskoj.
Petroviću je ovo treći mandat na čelu hrvatske reprezentacije jer bio je izbornik i na Eurobasketu u Turskoj 2001. kada su naši košarkaši izgubili u nesretnom četvrtfinalu protiv domaćina prvenstva.
Đorđeviću će pak ovaj Eurobasket biti prilika i za treću izborničku medalju sa Srbijom. Nakon što su Srbi u Ateni 2004. bili tek 11., a potom izostali s dvojih sljedećih Olimpijskih igara (2008. i 2012.) i nakon što su u 12 godina osvojili samo jednu medalju (srebro na EP-u 2009.), Sale Nacionale pojavio se kao spasitelj. Najprije je na SP-u Španjolskoj (2014.) osvojio svjetsko srebro, a dvije godine kasnije, u Riju, i olimpijsko srebro. A do njega su Srbi došli i zahvaljujući tijesnoj četvrtfinalnoj pobjedi nad Hrvatima koji bi im preprekom mogli biti i na ovom Eurobasketu. I to u osmini finala.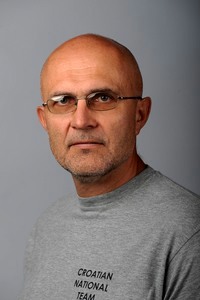 PRENOSIMO Večernji list PIŠE Dražen Brajdić FOTO Hrvoje Jelavić/Pixell