BUCHAREST, November 25, 2017 – On Friday, December 2, 1927 121 sports journalists gathered for a historic milestone for the future of Romanian sports media - the Sports Press Asscoation was born!
And 90 years have passed since then. It has been 90 years of ups and downs, but the Romanian Sports Press Association resisted and now became one of the oldest and respected press association in Romania and beyond. And another very importantly moment: 90 years have passed and since the association was affiliated to AIPS, and has since been in close connection with the worldwide organization.
APS – 90 years
And this week it was time to celebrate.
An impressive "APS – 90 years"Gala celebrating the 90th anniversary of the birth of the Romanian Sports Press Association and its affiliation with AIPS was held at the Romanian Athenaeum in Bucharest, one of the emblematic places of Romanian culture, under the motto "Media Champions and Sports Champions together forever", under the patronage of the Royal House and in partnership with the Romanian Olympic and Sports Committee.
The event was attended by important guests, national and international media sports personalities, representatives of federations, many athletes and sports fans in the foreground and, of course, sports journalists, with guests of honor Gianni Merlo (Italia) – AIPS President, Charles Camenzului – AIPS Europe President, Marius Dunca - Minister of Youth and Sports, Olympic gold medalist Mihai Covaliu – President of Olympic Committee, George Boroi – General Secretary of Olympic Committee, Octavian Morariu – IOC Member, Florin Pelin – rector Sports University, Emanuel Fantaneanu – member of AIPS Executive Committee, Doru Dinu Glavan - president of the Profesional Journalist Union (UZP), Ion Țiriac, Ilie Nastase, Gheorghe Hagi and his colleague Bogdan Stelea, Adrian Stoica – Honorary FIG vice-president, Irina Deleanu, Petrea Stănel-Cristian – club Steaua President, Mircea Roman, Horia Tecău, Roxana Scarlat Bârlădeanu, the great former Olympic and world champions Gabriela Szabo – in 1999, AIPS "Best sports women of the year", Ivan Patzaichin, Elisabeta Lipa, Gheorghe Berceanu, Valeria Răcilă and the new champions Simona Halep – number 1 in women's tennis, Elizabeta Samara (table tennis), Alina Vuc (wrestling), Ioana Vrînceanu, Viviana-Iuliana Bejinariu, Mihaela Petrilă, Iuliana Popa, Mădălina Bereș, Denisa Tîlvescu, Adelina Boguș, Laura Oprea și Daniela Druncea (rowing) and well-known journalists Ovidiu Ioanițoaia, Horia Alexandrescu, Vlad Enăchescu, Narcis Drejan, Adrian Fetecău and many more.
Sports media history
"1927 is shaped by double importance for Romanian sports press. On the one hand the Sport Press Association was born, on the other it was affiliated with the International Sports Press Association. Two events that have profoundly marked the history of the sports press in Romania. It was a moment that was based on the development of the sports press at that time: the first sports newspaper on February 1, 1880 and entitled Sportul, the first journal "Sports Magazine" on March 3, 1896, then on September 14, 1924, the first print publication of the specialised "Gazeta Sporturilor," President of the Romanian Associatin Dumitru Graur said.
"Also very important, the first AIPS Congress (1 to 3 July 1924) elected Romania's representative A. Keppich, as a member of the first AIPS Executive Committee, three years before our Association was born! Then connections with AIPS and later with AIPS Europe have strengthened and diversified. We celebrate now not only the 90th Anniversary of the founding of Sports Press Association of Romania, but all sport journalists and champions of sport of all-time, who throughout the decades have contributed to the development of media and sport nationally and internationally -we celebrate our presence among one of the great sports media organizations of the world…", Graur , who is a member of the AIPS Europe Executive Committee, added.
Moral duty of the media
Guest of honor, Gianni Merlo (Italy), AIPS President, said: "The Romanian Sports Press Association has a long and beautiful tradition, being one of the most active associations of AIPS. We bring our congratulations and appreciation not only to your Association but also to all Romanian journalists. Year by year, day by day, the media is changing, the sport changes. Not the values we cherish and appreciate. For that, the media still has a duty to be primarily in the fight against corruption, doping, illegal betting, fake news.
"Sport has in its soul moral cleanliness," the AIPS President continued. "And it must be kept. Sports Media has all the possibilities to support and promote all sports, to support and promote the true champions. I wish you long life and very high performance."
Gianni Merlo provided trophies from the International Sports Press Association to the Sports Minister - Marius Dunca - and Olympic Committee President – gold medalist Mihai Covaliu and our Association. In turn, Dumitru Graur, President NSJA Romania, assisted by Emanuel Fantaneanu, member of the AIPS Executive Committee, gave to President Gianni Merlo the Anniversary Trophy "APS - 90 years".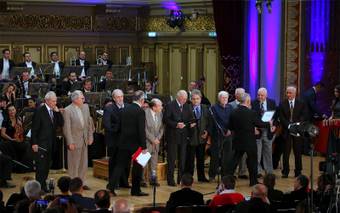 International roles
APS has established itself as a strong national and internationally organization, Romanian journalists being active members of the International Sports Press Association, AIPS Europe and regional associations. Historically, Romanian journalists have been in the leading international organizations of the sports press: AIPS Executive Committee members - A. Kepich (1924 - 1928), G. Papagheorghe (1936-1939), Aurel C. Neagu (1973 - 1989), Emanuel Fântâneanu (from 2005), AIPS Europe - Emanuel Fantaneanu (1997-2005), Dumitru Graur (from 2017), other colleges are members of the Sports Commissions (Romeo Vilara, Doina Stanescu etc).
AIPS Europe President and AIPS vice-president, Charles Camenzuli (Malta), said: "Is a very close link between Sports Press Association in Romania and AIPS or AIPS Europe. A relationship not only between organizations, but also a soul, because the same ideals inspires Romanian journalists in our particular profession, with important influences in society. I wish you good luck and long life.."
The AIPS Europe President gave a plaque to Sports Press Association and also plaques for Emanuel Fantaneanu, AIPS Executive Committee, and Dumitru Graur, NSJA President and AIPS Europe Executive Committee Member, in honor for constant contribution to the sport media. Also, as greater appreciation of the Association was presented to Charles Camenzuli by the president Dumitru Graur that offered the trophy and Anniversary Diplomas.
Domestic support
The Sports Press Association in Romania is currently working with the Ministry of Youth and Sports, the Romanian Olympic Committee, federations, clubs, and all those who work in the sports movement, with various international organizations. Also, Gianni Merlo and Charles Camenzuli had short meetings with the Mr Marius Dunca, Minister of Sports, Mihai Covaliu, President of Olympic Committee and Cristinel Romanescu, President of Table Tennis Federation and Deputy in Romanian Parliament, about AIPS Programmes, especially future Young Reporters Programmes.
The Romanian officials were particularly keen to support these projects. "Sport should be a priority for any government. I am a partner for all sports, for all performer and I hope that Romanian society to acknowledge the importance of sport. Sport has been instrumental in the identity of the Romanian people. The past sport Romanian we know all and we are proud of him. This we know, while the future belongs to us, the decision makers. It is a huge responsibility. Sport Press Association, sports journalists can support us in our work. Therefore we appreciate them and we appreciate on their expertise and help." added Marius Dunca. "As a former athlete, now as president of the Olympic Committee particularly appreciated the sporting press. Without it, we would not have been known. Therefore, there is a close collaboration with Sport Press Association, with sports journalists. With the benefit of both sides ", added Mihai Covaliu.
Recognizing the best
Moreover, the Olympic Committee presented Cristian Topescu, the most famous Romanian TV commentator at 80 years old, the "Golden Collar" – the highest honor of Romanian Olympics, after he gave the IOC Golden Collar in 1998.
An extremely moving moment was the award of Anniversary Diplomas and Medals to some veterans of the sports press: Tiberiu Stama (91), Stelian Trandafirescu (90), Modesto Ferrarini (88), Constantin Macovei (former president NSJA, 85), Dan Teodorescu (80), Ion Cârstea (80), Teoharie Coca-Cosma (76), Mihai Vesa (75), Radu Timofte (74), Doru Dinu Glavan (president of the Profesional Journalist Union, 67), Mugur Popovici (58) and others.
Dean of age Tiberiu Stama gave an emotional message for young journalists: "Be always with athletes, along with sports, always young in heart, regardless of age.".
The National Romanian Television, Radio Romania and Gazeta Sporturilor were awarded for outstanding contribution to the development of media, for all the work done in the service of sport. It was brought with it also a tribute to hundreds and hundreds journalist who worked in over 150 years of sports media in Romania.
A tribute to the bravery, courage, and desire to be better brought a standing ovation. This was when Corporal Eugen Pătru, was awarded, on behalf of the soldiers wounded in the theaters of operations in Afghanistan and Iraq, participating and back with medals from the World Games "Invinctus" in Toronto (2017). No words. Just tears and applause.
Trophies, medals and diplomas were awarded by the Sports Press Association of former and current athletes, great names such as Gheorghe Hagi, Ion Ţiriac, Simona Halep, Valeria Răcilă, Elizabeta Samara, Alina Vuc, Ionela-Livia Lehaci, Gianina Elena Beleagă, Ioana Vrînceanu, Vivian Iuliana Bejinariu Mihaela Petrila, Iuliana Popa, Mădălina Bereş, Denisa Tîlvescu Adelina Boguş, Laura Oprea, Daniela Druncea.
"2017 was the best year for me on. But at the same time the hardest. We went through difficult emotional times, but also very beautiful when I reached No. 1. It was a beautiful year and hope to come others even more beautiful still. Thank you Romanian press for this trophy that honors me. This award has a special significance" said Simona Halep, world number 1 in women's tennis, who received the Trophy from the incomparable Ilie Nastase, the first number 1 in world tennis.
Also attention was directed at those who contribute to development of sport, to support many young to come future champion: Ovidiu Garbacea, Alexandrion Company or Dedeman Company.
The entire event was broadcasted live by the National Television - TVR HD and the symphonic concert offered by the Royal Orchestra - conductor Constantin Grigore, violin Gabriel Croitoru, baritone Vasile Serban and soprano Adriana Marcu - grabbed a round of applause.
By Emanuel Fantaneanu, AIPS Executive Committee Member, Photo: Viorel Plesca