BUDAPEST, May 18, 2019 – Women's sport is making history in Budapest, where for the first time the UEFA Women's Champion's League final is being held on its own – in a separate venue and city of its own, away from the shadow of the men's game. On the day of the final this achievement was marked by another – the international conference on Empowering women in sport and sport media hosted by the Hungarian Sports Journalists' Association.
The conference gave a voice to women across three continents and generations, in fields where they have been seen as unwanted so long – in participating in sport, reporting on it, and being part of its governance and implementation.
From medalists and trailblazers on the field of play and in the newsroom, to those bearing the fruits of their early battles for equality and establishing themselves as thriving young sports journalists and administrators, the agreement was that empowering one another was key, that competence and certain professions do not belong to one gender or another, and that women's sport and its coverage (by both men and women) was not a thing of the future, or a passing fad, but that is in the present and here to stay.
"Beside the physical differences in men and women's sport, where women have proven that they are differerent but in no way inferior, one of the strong points in favour of the development of female athletes is the increasing cohesion in the female community – the Rector of the University of Physical Education (TE) and Co-host of the Congress, Prof. Dr.H.C. Lajos Mocsai said , adding how enthusiastic he and all of the Testnevelesi Egyetem University were to host an international conference of such a level at such a crucial time.
"It matters how we speak and write about sportwomen in the media – Dr Andrea Gal PhD, leader of the Master course of Sports Media Studies in Hungary said. "Our attitude forms the approach of the future generations," she explaine, highlighting the importance of the Materds program – the first of its kind, and the equally important task of encouraging young female students – which have been growing in numbers – to apply.
GUIDING GIRLS While introducing the topic Dr. Zsuzsa Czistu and Sonja Nikcevic gave their view on the topic: "What we should work for is to make it natural that female or male professions don't exist – said former Young Reporter and AIPS staff member Sonja Nikcevic. "Little girls around the world should never be told they can't do a sport or they can't write about sports."
FROM OLYMPICS TO POLITICS Dr Tunde Szabo, now Secretary of State for Sport, built up her career from the swimming pool and reaching the Olympic silver medal in Barcelona 1992 in the 100m backstroke. "The industry of sports generates business but also influences and impacts all areas. This has to be taken in consideration while speaking about empowering women, Dr Szabo Tunde said. "It is imporant that women are represented everywhere and we already start seeing the result of a long period of fights for this goal. In not just raising the number of women practising sports but also increasing the number of leading figures in sports management."
WOMEN IN FOOTBALL Just a few hours ahead of the UEFA Women's Champions League Final and a few weeks ahead of the FIFA Women's World Cup there was no one better than Laura Georges to talk about the importance of a movement that is now witnessing its turning point. Former defender of the French National Team and now Secretary General of France Football Federation Laura Georges made her point: "Women's football is not the football of the future, it's the football of today, it is something that is not going to wait again. In promoting the FIFA Women's World Cup (7 June – 7 July, 2019) we have been travelling around France and Europe and we received a lot of attention. We girls have been playing for years, the quality was high for years, so this is nothing new, but now it's our moment." And about the UEFA Women's Champions League Final: "I am happy to talk about it, finally the men and women's event are in two different cities gaining their own media and fan attention. I really hope it is going to be a great game tonight between my former club Lyon and Barcelona FC: football has to win, but I will cheer for Lyon of course".
WOMEN'S ROLE IN SPORT DEVELOPMENT Alexadra Szalay Bobrovniczky, Deputy Mayor for Human Affairs Municipality of the City of Budapest and leader of the initiative Budapest European City of Sport was present at the conference together with her young daughter 'the biggest fan of Katinka Hosszu'. "We mothers and females have an important role in leading our families to have sport activity during the leisure time and also on a daily bases. The city of Budapest is trying its best to embrace all the positive aspects of sports development not just in the competitive career but also in the everyday healthy life we would like to promote for our citizens".
'ARE YOU MALEIST'? Swimming Olympic champion Katinka Hosszu also joined the international panel held in her hometown. 'Iron lady' and ironic speaker Hosszu started her speech with a funny anecdote: "They recently asked me in an interview if I was a femenist and my natural reply was to ask the male journalist who raise the question if he was malist…I don't like this topic to be sincere: in my sport there is equality and I am in a lucky position. But I have to admit that to be taken seriously in business meeting requires not just competence, but also a lot of effort more for us the women. Still in 2019." For Katinka, said with a smile, the ultimate goal of empowering women should be in some years to have 'Empowering Men' conferences and giving men chances to be considered at the same level as women.
GIRLS CAN'T PLAY BASEBALL AIPS Sport Media Awards Juror Donna De Varona and swimming and broadcast icon started her story by highlighting how thankful she was for the education she received from her father who never compare her to her brother and never ever told her there was something she would not going to do. She wanted to play baseball, but girls couldn't play baseball at the time. But she made it on the team anyway as the bat girl ands she managed to complete a full season at the age of 8. In her time, she added, there were just five Olympic discipline 'available' for women and swimming was one of those. And after becoming the youngest Olympic champion and record-breaker at the age of 14 she dedicated her all life to the Olympic Movement. "The legacy of a life where sport meant everything to me, from competing to reporting about it was the key to keep on being actively supporting athletes to be listened and represented in the IOC, Donna said. "A long path is behind us, but many more goals still need to be reached. I am grateful to my male mentors in the profession of sport journalism and I wish I had also female ones. I had no female colleague, but now you can see how many we are!".
THE PANEL At the end of the conference it was time to open the discussion in a panel hosted by AIPS President Charles Camenzouli where representative from three different continents shared their opinions on women's roles in sport.
Karoline Zobernig (Austria)
: "It is so rare to have a panel entirely composed by women: I imagine that men in front of us can feel a little bit excluded and that's a good exerc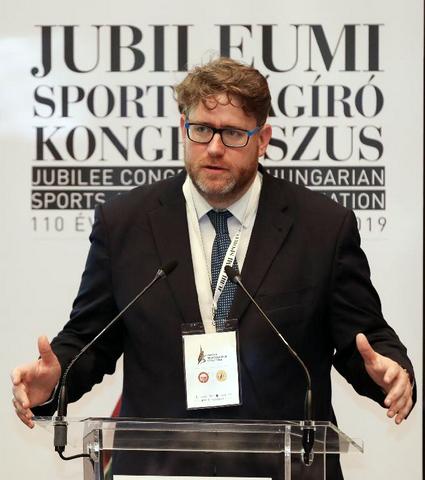 ise to wear our shoes and undertand how this is looking like for us"
Nastassia Marynina (Belarus): "It is all about giving high level of education to the girls and real opportunities to show their value to women'
Ritah Aliguma (Uganda): "If you give a woman opportunity she will do her 100%, we need to have more discussions, we need to build our network and be aware of our potential".
Adrienn Csepely (Hungary): "Back in 2011 I was a young journalist without a job and started my own blog following FIFA Women's World Cup as it should be done. It turned out to be the most popular in Hungary for that whole month. Things are slowly improving in Hungary but the women's representation in the field is restricted".
Sonja Nikcevic (Serbia): "It is still true that entering a room as woman sport journalists at the beginning can be seen strange: in my opinion it's about being prepared in what you're doing and showing that you know what you are talking about, and this goes for man or woman, without any distinction".
Katinka Hosszu (Hungary): "We need to have more women in the room and our mentality has to be a winning one: if we think ourselves that it is a disadvantage to be a woman, well, that's not very smart. We need to support each other".
A provocative question about Caster Semenya's situation was then asked by AIPS President Gianni Merlo: "What do women think about Semenya?"
Dr Czusza Czsizstu replied agreeing with Nastassia Marynina that the competition can't be fair with such differencies on biological levels between Semenya and the rest of women athletes. "But of course the humanitarian side of this complicated situation has to be taken in consideration - Dr Czusza Czsizstu concluded.
Donna De Varona (USA): "I believe that we're not ready to find a solution: science still need to give answers and research on this topic need to be completed".
It was Lyon that celebrated a historic fourth straight Champions League title beating Barcelona 4-1 at the Groupama Arena in Budapest on Saturday, but a giant cheer of victory went out for all of women's football and sport. The Women's Champions League final was its own game, its own narrative. And thanks to so many voices being given a platform just hours earlier, women's empowerment will be sending out its own call of victory as well.
By Maria Pia Beltran, AIPS Media PHOTO/AIPS media