MALTA, January 7, 2020 - For the second time in his career, Rafael Nadal - one of greatest tennis players of all times was chosen as the European Sportsman of the Year by journalists from 43 AIPS Europe national associations.
Rafael Nadal already won this honor in 2008 and this year's success reflects the potential of this leading figure in the world of sport . Katinka Hosszu, the Hungarian queen of swimming, for the third time in four years was chosen as the 2019 European Sportswoman of the Year. Hosszu was already a winner in 2016 and 2017 . Rafael Nadal was followed by Cristiano Ronaldo (Juventus f.c and Portugal) and F1 champion Lewis Hamilton. Katinka Hosszu was followed by Italian Biathlon ace Dorothea Wierer and Dina Asher Smith of Great Britian athletics.
It was the 37 th. annual poll conducted by AIPS – EUROPE through the world wide poll held by AIPS. As the biggest continental section of AIPS and was established in 1977 at the AIPS Congress in Milano Marittima and since 2003, the annual poll was named the Frank Taylor Trophy in honor of the former president of both AIPS and UEPS . Eventually the European Sportswoman awards was named for former leading UEPS official Evgen Bergant.
EUROPEAN SPORTSMEN and SPORTSWOMEN of the YEAR
MEN - Frank Taylor Trophy
2019 Rafael Nadal (Spain), tennis
2018 Luka Modric (Croatia), football
2017 Cristiano Ronaldo (Portugal), football
2016 Cristiano Ronaldo (Portugal), football
2015 Novak Djokovic (Serbia), tennis
2014 Manuel Neuer (Germany), football
2013 Mo Farah (Great Britain), athletics
2012 Novak Djokovic (Serbia), tennis
2011 Novak Djokovic (Serbia), tennis
2010 Sebastian Vettel (Germany), Formula 1 motor racing
2009 Roger Federer (Switzerland), tennis
2008 Rafael Nadal (Spain), tennis
2007 Roger Federer (Switzerland), tennis
2006 Roger Federer (Switzerland), tennis
2005 Roger Federer (Switzerland), tennis
2004 Roger Federer (Switzerland), tennis
2003 Michael Schumacher (Germany), Formula 1 motor racing
2002 Michael Schumacher (Germany), Formula 1 motor racing
2001 Michael Schumacher (Germany), Formula 1 motor racing
2000 Pieter van Hoogenband (Netherland), swimming
1999 Tomas Dvorak (Czech Republic), athletics
1998 Bjoern Daehlie (Norway), cross country skiing
1997 Wilson Kipketer (Denmark), athletics
1996 Alexander Popov (Russia), swimming
1995 Jonathan Edwards (Great Britain), athletics
1994 Michael Schumacher (Germany), Formula 1 motor racing
1993 Linford Christie (Great Britain), athletics
1992 Vitaly Scherbo (Commonwealth of the Independent States), gymnastics
1991 Sergey Bubka (Soviet Union), athletics
1990 Lothar Matthaeus (Germany), football
1989 Boris Becker (Germany), tennis
1988 Sergey Bubka (Soviet Union), athletics
1987 Stephen Roche (Ireland), cycling
1986 Boris Becker (Germany), tennis
1985 Sergey Bubka (Soviet Union), athletics
1984 Michel Platini (France), football
1983 Michael Gross (Germany), swimming
WOMEN - Evgen Bergant Trophy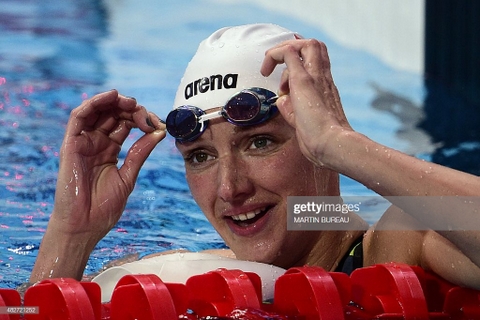 2019 Katinka Hosszu (Hungary), Swimming
2018 Ester Ledecka (Czech Republic) Snowboarding
2017 Katinka Hosszu (Hungary),Swimming
2016 Katinka Hosszu (Hungary), swimming
2015 Dafne Schippers (Netherlands), athletics
2014 Darya Domracheva (Belarus), biathlon
2013 Yelena Isinbayeva (Russia), athletics
2012 Jessica Ennis (Great Britain), athletics
2011 Federica Pellegrini (Italy), swimming
2010 Blanka Vlasic (Croatia), athletics
2009 Blanka Vlasic (Croatia), athletics
2008 Yelena Isinbayeva (Russia), athletics
2007 Justine Henin (Belgium), tennis
2006 Justine Henin-Hardenne (Belgium), tennis
2005 Yelena Isinbayeva (Russia), athletics
2004 Kelly Holmes (Great Britain), athletics
2003 Justine Henin-Hardenne (Belgium), tennis
2002 Justine Henin-Hardenne (Belgium), tennis
2001 Svetlana Khorkina (Russia), gymnastics
2000 Inge de Bruijn (Netherland), swimming
1999 Gabriela Szabo (Romania), athletics
1998 Larissa Lazutina (Russia), cross-country skiing
1997 Martina Hingis (Switzerland), tennis
1996 Svetlana Masterkova (Russia), athletics
1995 Steffi Graf (Germany), tennis
1994 Manuela Di Centa (Italy), cross-country skiing
1993 Franziska van Almsick (Germany), swimming
1992 Krisztina Egerszegi (Hungary), swimming
1991 Monica Seles (Yugoslavia), tennis
1990 Katrin Krabbe (Germany), athletics
1989 Steffi Graf (Germany), tennis
1988 Kristin Otto (GDR), swimming
1987 Steffi Graf (Germany), tennis
1986 Heike Drechsler (GDR), athletics
1985 Marita Koch (GDR), athletics
1984 Marja-Liisa Kirvesniemi (Finland,)cross-country skiing
1983 Jarmila Kratochvilova (Czechoslovakia), athletics
AIPS Europe