The Tokyo Olympics Games are a hot argument in these days. We have decided to organise an open discussion about the future of this important event with some colleagues, who have participated in many editions of the Games. It is necessary to clarify some points regarding the situation to avoid speculations.
Last year we had hoped that 2021 would be better, now we are experiencing that the fight against Coronavirus, or Covid-19, has many faces - it is not over and this is a very delicate moment. Sport in every country has found solutions to survive, because even without spectators it continues to give to the public hope that one day, not so far, the life would return, if not as before, better than now for sure. Join our expert panel led by AIPS President Gianni Merlo on Tuesday, January 26, 2021 at 2 p.m. CET on Zoom, as we focus on the conversations around this year's Olympic Games in Tokyo under the theme "Let's talk about Tokyo Olympics". English will be the language of the event, but participants will have access to simultaneous translations in Spanish, French and Arabic.
Today (January 23) marks six months until the Games open on July 23 at the Olympic Stadium in Tokyo.
MEET THE PANELLISTS
GIANNI MERLO (ITA)
Gianni Merlo has been President of the International Sports Press Association since 2005 and has been a correspondent for Italy's leading sports daily newspaper La Gazzetta dello Sport since 1974. He began his journalistic career in 1967 at the magazine Atletica Leggera. He then went on to contribute to a number of newspapers including Il Giorno, La Gazzetta del Popolo and Corriere dello Sport-Stadio. In 1972, he held the position of television commentator assistant, first for Italian Swiss television and then national Italian network RAI. He then moved on to La Gazzetta dello Sport where he was head of the athletics, winter sport and Olympic departments. Throughout his career, he has covered 12 winter Games and 11 summer Games, and more than 35 World Championships and European Championships in athletics and skiing and other sports. He wrote the biography of Oscar Pistorius. He is a member of the IOC Press Commission.
LUCIA MONTANARELLA – Head of Olympic Games Media Operations (ITA)
Lucia Montanarella started her sports reporting career in Rome (Italy) her home city, with the Italian national daily newspaper Il Tempo (1991- 1997), while also reporting for national radio Radio Dimensione Suono (1996-1999). Her first Olympic assignment came with the Albertville Winter Olympic Games in 1992. She also covered the Barcelona 1992 and Atlanta 1996 Olympic Games. In the last two decades Lucia has held a number of media event positions, including international media officer the 1998 World Equestrian Games, Rome, venue press manager at the Sydney 2000 Olympic Games and Director of Media Operations for the 2002 World Equestrian Games, Jerez de la Frontera, Spain. In 2003 she was appointed Head of the Olympic News Service for the Torino 2006 Olympic Winter Games, receiving widespread praise by the international media as the "best ever" Olympic News Service.
Lucia was appointed Press Chief for the Vancouver 2010 Olympic Winter Games (2006-2010) and for the Rio 2016 Olympic and Paralympic Games (2012-2016), becoming the first female Press Chief in Olympic history, and the first person acting as Press Chief in two Olympic Games. Since 2017 she is the editor-in-chief of the Olympic Information Service. In January 2020 she was appointed Head of the Olympic Games Media Operations at the International Olympic Committee (IOC).
VINCENT AMALVY (FRA)
Vincent Amalvy started out in journalism at regional French newspaper Sud-Ouest. He joined Agence France-Presse (AFP) as a photojournalist in Bordeaux in 1990, before moving to the Paris photo staff in 1992. He was appointed as chief photographer to Jerusalem in 1995 and became AFP Chief photographer two years later in Paris. He was promoted to editor in chief in 2000, and was handed responsibility for the France-Europe-Africa region in 2003, before becoming editor in chief of AFP's global photo operation. In 2006, he moved to Washington to take over as chief regional photo manager for North and South America, and had responsibility for organizing AFP's coverage of global sporting events including the Olympic Games and the FIFA World Cup. In 2011 he was appointed Global Head of Sports in Paris. From 2016 he is based in Hong Kong as Head of Special Operations and Photo Director for Asia / Pacific.
JAAP DE GROOT (NED)
Jaap de Groot has been a reporter at De Telegraaf since 1976, and Chief editor of the sports section since 2006 till 2018. Throughout his career he has covered 11 World Cups Football; 10 European Football Championships; four Summer Olympic Games and four Winter Games. He has had articles published in Die Welt, France Football, Newsweek Magazine, Soccer America, World Soccer and a number of other foreign media. He is also a regular commentator on Dutch national radio and television, and has had appearances on several international media, including those in England (SKY and BBC) and United States (CNN). De Groot is the author of the authorized biography of Johan Cruyff (My Turn), that was published in more than 60 countries and in 23 different languages. He is a member the Dutch Sports Council, member of FIFA Players Committee under Michel Platini and former member of UEFA Media Task Force.
DONNA DE VARONA (USA)
Donna de Varona, President of DAMAR Inc., a sports marketing, production and consulting company, is a double Olympic gold medalist and former world record holder in swimming. By the time de Varona retired from her sport aged 17, she had established more than 18 world records and fastest times, competed in two Olympics - the first as a 13-year-old world record holder - and was voted the most outstanding female athlete in the world in 1964-5. She is recognised for her work as an Emmy award-winning sports journalist, having covered 17 Olympic Games. She has been appointed by three IOC Presidents to the Women in Sport Commission and served as Chairman of the 1999 FIFA Women's World Cup. De Varona has served on the United States Olympic Committee Board and Foundation, the United States Soccer Foundation, the International Special Olympics Executive Board, and is an advisor to the US Department of State Empowering Women Through Sport initiative.
GARY KEMPER (USA)
Gary Kemper has been a photojournalist for nearly 40 years and currently is a photo consultant for multi-sport events. He helped start the Reuter News Pictures service in 1984 and served as the editor for Asia, Australia and New Zealand for five years based in Hong Kong and as the editor for Europe, Africa and the Middle East for three years based in London. Prior to that, he was a photographer for United Press International covering news and sport stories around the globe. More recently, Kemper was the director, North America, for the European Pressphoto Agency. He was the Photo Chief for the 1996 Olympic Games in Atlanta and for the 2000 Olympic Games in Sydney.
SHINSUKE KOBAYASHI (JAP)
Shinsuke Kobayashi joined Kyodo News, Japan's leading news agency in 1987 as a sports reporter. He covered numerous national and international sporting events including five Summer and five Winter Olympic Games. Having enjoyed spells in New York and London as a correspondent, Kobayashi became Deputy Editor in 2010, then Chief Editor of Sports News Section at Kyodo News from 2014 to 2018. He has been Secretary General of Japan Sports Press Association since 2015. He is a member of the IOC Press Committee. He now leads Kyodo's coverage of the 2020 Tokyo Games as Managing Director of Olympic and Paralympic News Office.
ANDREAS SCHIRMER (GER)
Andreas Schirmer began his journalistic career at German agency Sport-Informations-Dienst (SID) in Hamburg at the end of the 1970s. After his traineeship and a further two years at SID, he continued his studies in politics and journalism. At the end of the 1980s, Schirmer joined the Deutsche Presse-Agentur (DPA), where he works to this day. His reporting expertise lies in athletics, sports politics and fencing, and he has written several books about the history of fencing. He has reported on a total of 16 summer Olympic Games and eight winter Games as well as several world championships in football and athletics.
STEVE WILSON (USA)
Steve Wilson is a media, sports, Olympics & communications expert. A native of Washington D.C, USA, he became the correspondent for the Associated Press (AP) in in Rome, New Delhi, New York, Boston and Miami. He was AP European Sports Editor from 1991 to 2017, directing writers and editors in London and around the world and AP's Olympic correspondent, reporting on all facets of Olympic Movement, becoming the go-to expert on all Olympic issues. He has covered 15 summer and winter Olympic Games and all major international sports, including football, tennis, golf, athletics, skiing, boxing, basketball, and all American sports. He has also covered multiple IAAF Athletics World Championships, Wimbledon and French Open tennis championships, British Open golf championships and Ryder Cups. He is the winner of the prestigious "Sportswriter of the Year'' and "Story of the Year" awards for Olympic reporting, and member of International Olympic Committee Press Commission since 1991.
JIE ZHOU (CHI)
Zhou Jie, Deputy Director of Sports News Department of Xinhua News Agency and IOC Press Committee member, began his sports media career in 1986. He has covered a series of important sports events including all Olympic Summer and Winter Games since 1992. For his long-time coverage of the Olympic movement, he was recognized by AIPS at the "Journalists on the Podium" event at four consecutive Olympic Games since London 2012. Mr. Zhou also takes the position of Deputy Secretary General in the Chinese Sports Press Association.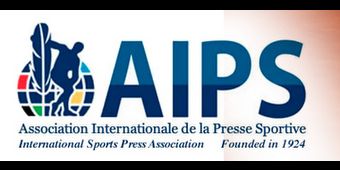 AIPS Media /Graphics by Nordcap Studio